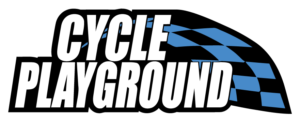 Cycle Playground was formed in 2006 as a family business to support our racing. At the time shop manager Mike J Soudas was just 16. His passion in motorcycle racing had propelled him to the Regional AA class in offroad racing in ECEA-East Coast Enduro Association. Mike J is a frequent racer in GNCC, NETRA, District 6 and many other series.
After highschool Mike J continued his studies in Business, Motorsports Technology and Automotive Technology, becoming a certified mechanic and tuner.
The other half of this family business is Mike Soudas, Mike is a long time motorcycle rider, racer and enthusiast. Mike has always acted as the pit crew and mechanic for young Mike J. Being an automotive mechanic and owning a collision repair center for 30+ years, Mike S is not shy in the powersports industry. Mike S as he is known to many for his tuning of KTM motors for over a decade from 2004. Working closely for years with fellow engine and suspension tuners/builders, Eric Gorr, Ron Hamp, Dr Redsuoz , Mitch, Jeremy Wilkey and many more. Mike S has been passing the torch to Mike J.
Mike S has come from old school, trial and error methods and then learned the science, Mike J has learned the science, lived it by racing and now learns the fine elements every day. in this industry.
Cycle Playground, offers not only the fun factor and tuning for the avid racer but for the general public is where our future lies. From the basics of tires, oil changes, inspections are the day by day workflow we enjoy. We work on all makes and models. Electronics are a side line of Mike J, his skills are advancing along with the industry. From engine to suspension we have it covered.
Accessories and parts from all industry sources are available. If you bring the parts that is fine we will quote you labor only.